Odity confirms its Client Relations leadership position for prestigious brands in the Fashion, Leather Goods, Jewelry, Cosmetics, Horology and Design, with the acquisition of TFour on December 30th, 2021. As a leader in this sector in Italy, TFour is Odity's 5th acquisition in 6 years and offers high value-added services aligned with Odity's positioning.
With TFour, founded by the Tranchida family, Odity is consolidating its local presence in Milan, New York City and Hong Kong, where synergies are expected as soon as 2022. About 40 TFour's charismatic brands will be able to capitalize on Odity's global international reach, with Tokyo and Shanghai especially, where growth potential is tremendous for European brands. TFour's clients will also benefit from Odity's digital expertise and, more specifically, its Customer Experience monitoring offer.
Led by Antonio Tranchida, who is part of the new endeavor, as CEO for Italy, around 200 TFour women and men will join Odity, together with Francesco Tranchida, as CFO for Italy, and a solid faithful management team.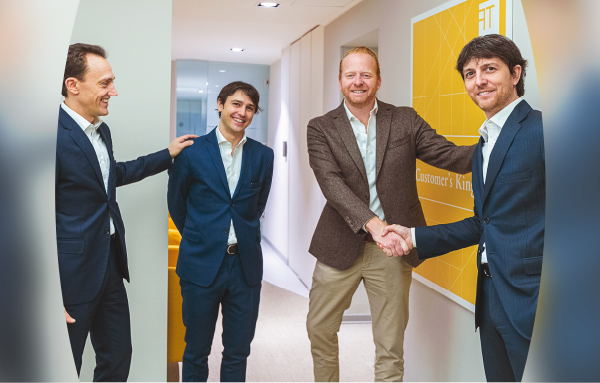 Capitalizing on its constant development dynamic since its inception in 2011, Odity now becomes a worldwide actor in its field. It also strengthens its geographical reach and its positioning as Client Relations expert, with tailored solutions to best serve demanding clients, 24/7, everywhere and in the language of their choice.
TFour + Odity today
– More than 1,500 employees,
– The trust of about 200 brands,
– A consolidated « Follow the Sun » international reach, United States, United Kingdom, France, Italy, Belgium, South Africa, Madagascar, China (Hong Kong and Shanghai) and Japan,
– More than 5,000 SaaS platform B2B users,
– And close to €50 million of estimated turnover for year-end 2022 (vs. consolidated +€40 million as of December 31st, 2021)
« Two family businesses are gathering with this new acquisition. Odity reinforces its international reach, consolidates his leading service provider position in the luxury sector and for demanding clients in general. I am thrilled to have the chance to work with Antonio and Francesco Tranchida. Our common passion for excellence will soon benefit all our clients. The future synergies between our 2 firms are unlimited and international growth opportunities are immense. »

Benoît Vorilhon
Founder and CEO, Odity
« We are really glad of this important outcome. We started in 2010 and in a few years we created the leading Client service company in the Italian market for the Luxury, Fashion and Design sector; now it is a great pride for us to be part of an ambitious group like Odity. We firmly believe that, together, the international market presence will provide an opportunity for further growth and an even greater challenge. »

Antonio Tranchida
CEO Odity Italy